Hot Metabolism Customer Testimonials
Testimonial - Read what people are saying...

I now have my life back
Hi Carolyn,

I am very much still active six months on from starting [the Hot Metabolism plan] and I am loving it :)

This training has proved to be the best thing ever... Everything made sense, the switches went off, and finally I get it, thank you!

I was a size 22 at the start of my Hot Metabolism training. I am currently a size 16, and that feels AMAZING!!! This kind of size reduction was a definite first, and the realization for me of the tremendous accomplishment I had made in such a short time.

Another is to have my blood sugars consistently in the normal range!!! I have had diabetes for the last 14 years and have struggled in that time to have basic control of it. Now I do...

These types of benefits are priceless!!!

I now have my life back, I am energised, healthy, happy, motivated and no longer just existing but living. Thank you very much for showing me the way :)
Forever grateful,
Kylie Batistich
Testimonial - Read what people are saying...

Exactly what I needed
I was always a fit, active, lean guy during high school. Eating junk food wasn't a problem until I finished school and stopped playing sports. Working all day meant my energy consumption dropped considerably, yet I was still eating the same poor diet as before.

The result? I gained body fat in places I had never thought possible! That's ok, I thought. I'll just do some running around and that'll sort it! But in reality this just never happens.

A year later, when I finally cottoned on to Carolyn's healthy eating plan it supplied me with a road map to getting back to my former self. It was exactly what I needed.

Now, 8 months down the track, I am managing to keep my body fat under control and my energy levels have not been this good for years. I feel that having a better understanding of how food works is critical to anyone's weight management success.
Jason Roads - 32
Testimonial - Read what people are saying...

I'm actually getting noticed!
There are so many great things to say about Hot Metabolism that it's hard to know where to start.

I love how Carolyn has carefully researched all the techniques and tips and I only have to read the info given and put it into practice. Taking advantage of her ongoing expertise in this area is really so simple.

I've been following the plan for 5 months and already I've lost 22 pounds and gained so much more energy and confidence. Nights out with the girls are loads more fun now that I'm actually getting noticed!

I feel like I could go on and on about how great Carolyn is and how much better I feel today, but I'm guessing there is no need to - it's obvious!
Alexandra Smart - 35
Testimonial - Read what people are saying...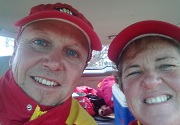 We needed something to keep us going
For 5 months of the year we are volunteer lifeguards so we need to keep in shape and ready to go at a moments notice, but as the years have progressed we have got lazier and noticed the extra kilos stacking on.

Every year we have to pass a refresher exam and we both noticed that this was becoming harder and harder to achieve.

Now that we are both nearly into our 50's we needed something to keep us going. Step in The Hot Metabolism Plan. Along with the healthy eating plan and the exercise plan we have both been able to lose those extra kilos. (John 12kg, Paula 8kg).

Thanks to Carolyn's plan we now have the strength to be motivated to still able to do this worth while service.
Thanks Carolyn
John & Paula Kearney - 48-50
Testimonial - Read what people are saying...

The results speak volumes
Somewhat sceptically, I agreed with my husband that I would give the Hot Metabolism plan a shot. I had really let myself go since having a knee operation and it was having an adverse effect on our relationship and my sense of well-being.

I read through Carolyn's system of weight loss management and by the end of it I genuinely felt empowered to create a healthier me! After 7 months on the plan, physically I feel so much better than I've felt in such a long time and I have more confidence in myself, which has given me the confidence to do new things.

Like Carolyn says it is not magic - successful fat loss is achieved only with the right exercise and nutrition. Thankfully since giving the Hot Metabolism plan a good go I can see that clearly now and the results speak volumes.

My knee is so much stronger than it has ever been, my relationship is better than ever, and I look a whole lot better too.
Carmel Anderson - 43
Testimonial - Read what people are saying...

I am SO grateful I found your program!
I was hypoglycaemic, diabetes was prevalent in my family and I knew I was a prime candidate for this disease unless I could get my blood sugar under control. I am SO grateful I found your program!

I am now accountable for what is going on within my body. However, I don't feel pressure to constantly meet exercise targets or daily calorie counting; it is just an easy and enjoyable way to succeed at living a healthier life.

Now I feel healthier, have steadier energy and am in a better a mood; and it has also been nice to lose some weight.
Michael Dunbar - 46
Testimonial - Read what people are saying...

It was music to my ears!
When I was told EATING MORE OFTEN will INCREASE the rate at which you burn fat, it was music to my ears!

Seriously? Eating more often! That alone was why I was intrigued to try out the Hot Metabolism course and it was the best decision ever. Not only has my wish to eat regularly come true, I've also gained an all around feeling of well being, both physically and emotionally.

This course contains no gimmicks and is a smart way to lose weight and keep it off for good. I can't tell you how much the Hot Metabolism plan has changed my life.

Before starting it I could barely walk around my local park without being completely breathless. Now I can actually run 5 kilometers without stopping and come back home feeling like I've just came back from a long walk!

The plan itself takes time to read through, but once you grasp the basics of fat burning to increase your metabolism, you really feel like it is common sense. Life becomes so much easier to bear and the plan is a joy to follow.

I have reached my weight loss goal but I intend to continue with the plan just because of the energy it allows me to have and the happiness it has brought to my family.
Ramona Chinay - 41
Testimonial - Read what people are saying...

I achieved exactly what I wanted
Now food and meals are no longer an issue for me. I achieved exactly what I wanted, I could stop going to Weight Watchers, yet still manage my weight and I steadily gained the insight and tools to stay in control when I am surrounded by food.

Diabetes, Obesity and High Blood Pressure all run in my family and are just a few of the avoidable health problems I've now saved myself from.

Regular exercise and good nutrition can help prevent your body from acquiring these conditions. I highly recommend a Hot Metabolism lifestyle.

It feels great to do and it is easy to stick with.
Monty Duke - 64
Testimonial - Read what people are saying...

I feel energised each day
I discovered Carolyn's Healthy Eating plan last year, when I noticed a friend successfully losing weight, I asked her her secret and she told me about the hot metabolism plan.

Feeling really low about myself I decided to give it a go and I haven't looked back. It's really easy to get into, I feel energised each day and I am having so much more fun outdoors with my kids. Now that I have a clear understanding of these principles of weight loss (through fat burning) I can't believe I didn't see it before and I have no wish to go back to being that unhealthy person I was a year ago, with low self esteem and constantly grumpy.

To reach my perfect weight I still have a few pounds to go, but I know I can do it. One of the best things about this is how happy I feel each day. Life is great again! I have made the commitment to do this for myself and I feel that I will be very successful.
Stacey Patrick - 35
Testimonial - Read what people are saying...

Free of cravings and my sugar addiction
By just learning to eat right and engage in the advised forms of exercise, I have not only improved my health but I know I am actively preventing many more serious health issues that can may otherwise lead to severe health conditions.

I feel like I've been given the key to consistently eating healthier and being free of cravings and my sugar addiction.

Prior to starting this I was forever getting colds and coughs due to my weakened immune system, but now that I am so much fitter and healthier my immune system has greatly improved too and coughs and colds are a thing of the past.

The Hot Metabolism plan is easy to follow, it gives us great insight into how our bodies respond to nutrition and exercise and it actually works!
Peter Jamieson - 54